Monin Syrup Summer Drink Recipe Inspirations
When the sun comes out, so do the crowds. A great way to capitalise on our oh-so-short, but always busy British summer is to offer refreshing cocktails for your customers.
Below we've showcased some amazing cocktail recipes - both boozy and alcohol-free - that utilise Monin Syrups to create flavourful beverages. There's also a few consumer stats that reflect the transformative power of syrups and purees.
So, read on to refresh your drinks menu and make sure this Summer is a success! 

Click 'Read More' to discover our refreshing recipes!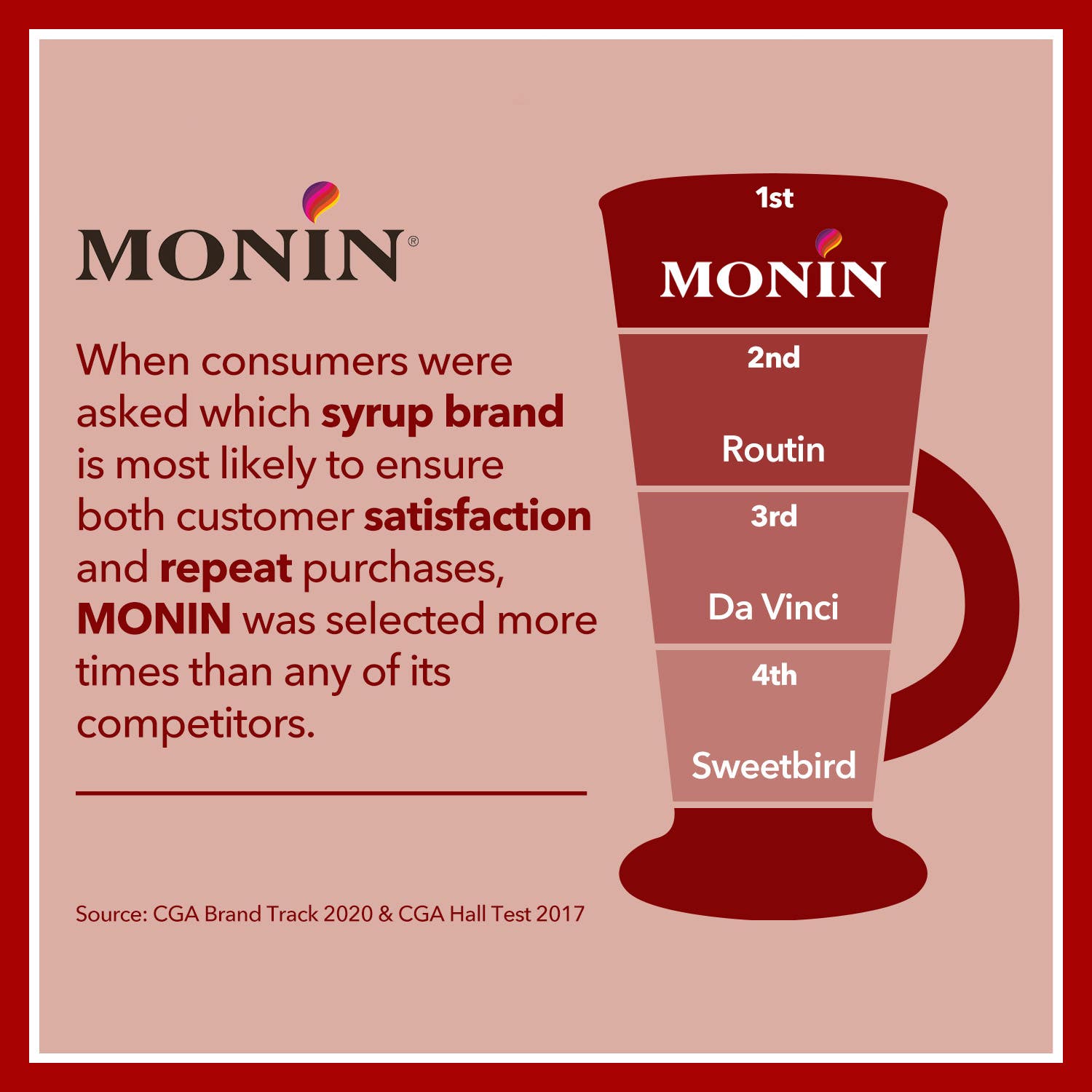 Strawberries are perceived to be the most popular flavour for summer drinks in the UK. MONIN captures its fruitful essence, in an easy to use, versatile syrup for all types of drinks. Alongside the standard MONINstrawberry syrup, MONIN has launched a Reduced Sugar Strawberry syrup which has 98% lower sugar and can beused in the same way.

Strawberry Mojito


-  25ml Monin Strawberry Syrup
-  25ml Lime Juice
-  50ml Rum
-  12 Mint Leaves

Add all ingredients to a Highball glass and half fill with crushed ice. Mix thoroughly, then top with crushed ice and garnish with a sprig of mint
Made with Sicilian lemons, MONIN Cloudy Lemonade is a concentrate designed to make easy, yet refreshing homemade style lemonades. Versatile in nature, this can be served simply mixed with water, however adding some MONIN syrup can transform it into a lemonade with a twist, we recommend adding Pink Grapefruit or Strawberry for a delicious thirst quencher.

Cloudy Lemonade


-  40ml Monin Cloudy Lemonade Syrup
-  150ml Still Water

Add the ingredients in a glass. Stir and add cubed ice. Garnish with some Opies Sliced Lemons.
Mango is the apple of the tropics, delicious simply peeled and eaten plain, its pulp is juicy, distinctively flavoured and seductively sweet with some notes of acidity. Harvested at maturity, Le Fruit de MONIN Mango matches the fruit's unique flavour and texture.

Mango Smootie


-  30ml Monin Mango Fruit Puree
-  3-4 Scoops Vanilla Ice Cream
-  120ml Still Water

Add all ingredients to a blender with 1 cup of ice and blend for 25 seconds. Serve garnished with a slice of mango.
Monin Syrups and Purees
Perfect flavouring for milkshakes, desserts, coffee and cocktails.
Here at Stephensons, we stock and supply a wide range of Monin syrups made from the best natural fruits, flowers, spices and plants. These highly concentrated, authentic flavourings, offer exceptional versatility for creating speciality beverages. These highly concentrated syrups reduce the cost per serving and the quality glass bottles they are supplied in are the perfect shape for pouring and flairing. 
All of all our Monin surps and purees contain no alcohol and are perfect for use with non-alcoholic and alcoholic drinks alike — making them a great choice for hotels, cafes, bars and restaurants.
Monin has been making syrups at its headquarters in Bourges, France since 1912. A leading brand in 100 countries, Monin is used in many of the UK's premier bars and restaurants to add sophistication and variety to an array of cocktails and beverage.
We are also proud to stock Monin Purees. These sweet treats allows you to stretch your creativity and meet your customers' expectations for flavour and uniqueness with our extensive selection. Our Monin purees are ideal for cocktails, smoothies and mocktails - there's no need to add extra sugar or flavours!
Monin Purees are made with 50% whole fruit and are highly concentrated, pre-sweetened and shelf stable. 
Key Features:
Flavouring syrups and purees
Monin Syrups are used and loved throughout the industry
Expert and professional brand of choice
No artificial colouring or preservatives
Highly versatile
High concentration
Made from natural fruits, flowers, spices and plants
Suitable for vegetarians & Vegans
BRC, Kosher and Halal certifications
Read More
Monin
Monin Syrups For Coffee & Desserts in Glass 70cl Bottle
Monin Syrups For Coffee & Desserts in Plastic 1Ltr Bottle
Monin Syrups For Cocktails & Desserts in Glass 70cl Bottle
Monin Syrups For Cocktails & Desserts in Plastic 1Ltr Bottle
Monin Concentrated
Monin Fruit Purees
Monin Smoothie Mixes
Monin Gourmet Sauces