Monin Winter Drink Recipe Inspirations
Consumers are increasingly looking for seasonal specials to treat themselves during this time of indulgence and celebration. Tap into this opportunity by offering a limited edition festive coffee or hot chocolate to your customers.
The syrups we have showcased are popular seasonal flavours and can bring that festive touch to your menus.

Click 'Read More' to discover these tasty treats!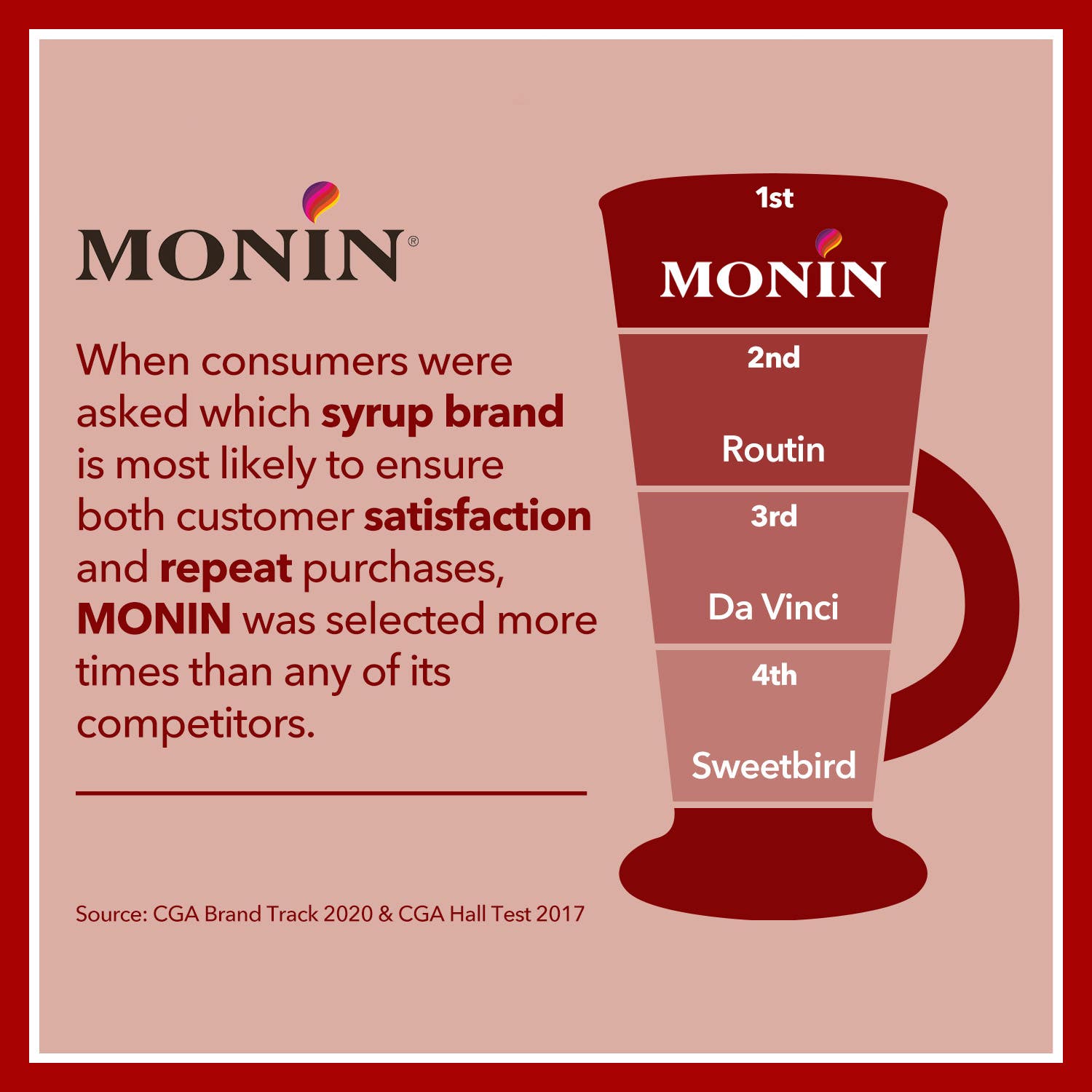 Monin Gingerbread, with a hint of nutmeg and cinnamon, is the perfect addition to a festive drinks menu. This versatile flavour recreates those cosy feelings of warmth and nostalgia around the fireplace.

Gingerbread Mocha


-  15ml Monin Gingerbread Syrup
-  Single Espresso
-  180ml Hot Chocolate

Extract the single shot of espresso into the cup and add in the syrup.
Top with hot chocolate and garnish with whipped cream and a light dusting of cinnamon powder.
Monin Salted Caramel Syrup will add a sophisticated, irresistible flavour to your signature drinks and have customers coming back for more.

Salted Caramel Latte


-  15ml Monin Salted Caramel Syrup
-  Double Espresso
-  180ml Steamed Milk

Extract the double espresso into the cup and add the Salted Caramel syrup.
Top with steamed milk.
Monin Frosted Mint syrup, with the delicately cool spearmint flavour, pairs well with chocolate and makes a refreshing substitution for mint liqueurs in cocktails and mocktails.

Frosted Mint Hot Chocolate


-  15ml Monin Frosted Mint Syrup
-  200ml Hot Chocolate

Add the Frosted Mint syrup to a glass. Prepare the hot chocolate and pour into the glass. Garnish with whipped cream and Christmas themed toppings. 

 

 

 
Monin Syrups and Purees
Perfect flavouring for milkshakes, desserts, coffee and cocktails.
Here at Stephensons, we stock and supply a wide range of Monin syrups made from the best natural fruits, flowers, spices and plants. These highly concentrated, authentic flavourings, offer exceptional versatility for creating speciality beverages. These highly concentrated syrups reduce the cost per serving and the quality glass bottles they are supplied in are the perfect shape for pouring and flairing. 
All of all our Monin surps and purees contain no alcohol and are perfect for use with non-alcoholic and alcoholic drinks alike — making them a great choice for hotels, cafes, bars and restaurants.
Monin has been making syrups at its headquarters in Bourges, France since 1912. A leading brand in 100 countries, Monin is used in many of the UK's premier bars and restaurants to add sophistication and variety to an array of cocktails and beverage.
We are also proud to stock Monin Purees. These sweet treats allows you to stretch your creativity and meet your customers' expectations for flavour and uniqueness with our extensive selection. Our Monin purees are ideal for cocktails, smoothies and mocktails - there's no need to add extra sugar or flavours!
Monin Purees are made with 50% whole fruit and are highly concentrated, pre-sweetened and shelf stable. 
Key Features:
Flavouring syrups and purees
Expert and professional brand of choice
No artificial colouring or preservatives
Highly versatile
High concentration
Made from natural fruits, flowers, spices and plants
Suitable for vegetarians & Vegans
BRC, Kosher and Halal certifications
Read More
Monin
Monin Syrups For Coffee & Desserts in Glass 70cl Bottle
Monin Syrups For Coffee & Desserts in Plastic 1Ltr Bottle
Monin Syrups For Cocktails & Desserts in Glass 70cl Bottle
Monin Syrups For Cocktails & Desserts in Plastic 1Ltr Bottle
Monin Concentrated
Monin Fruit Purees
Monin Smoothie Mixes
Monin Gourmet Sauces