Monin Syrups and Purees
---
Adding flavours to your lattes and hot chocolates can be a delicious treat, and Monin is one of the most well-established cocktail syrups brands in the world. While utilised for a range of vintage and modern cocktails, Monin can also be used for hot beverages, soft drinks. Established in 1912, Monin's range of delightful flavours have all been made from natural fruits, flowers, spices, and plants, and offer outstanding quality. The high concentration of these syrups makes them perfect for busy bars, cafés, and restaurants. Continue reading to discover some cocktail inspiration...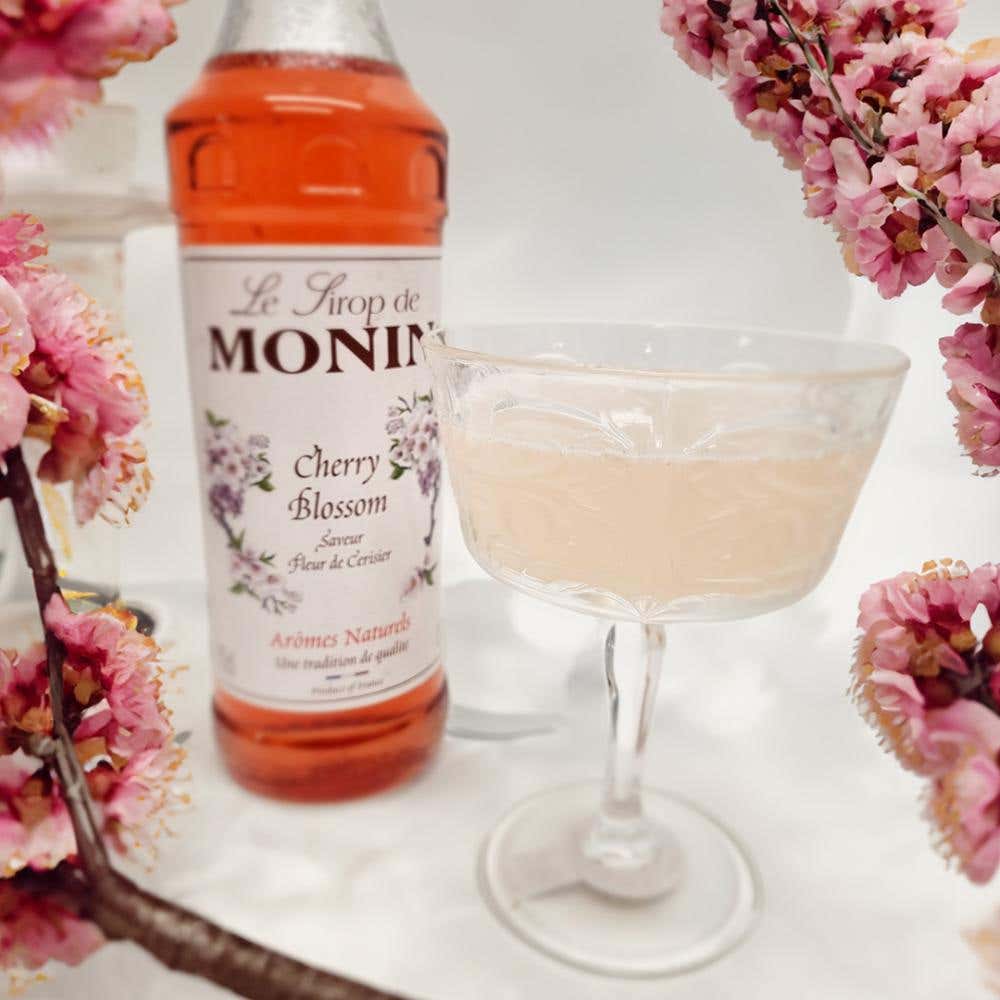 Serves 1
Ingredients:
50ml gin
20ml Monin Cherry Blossom syrup
10ml Monin Vanilla syrup
25ml fresh lemon juice
20ml lychee juice
Edible flower (garnish)
Method:
Add all ingredients into a Boston tin with ice. Shake well, then double strain into a coupe glass. Garnish with an edible flower.
---
Serves 1
Ingredients:
50ml pisco
25ml Monin Mango syrup
25ml lime juice
25ml egg white
Angostura bitters (for garnish)
Method:
In a Boston tin add (in this order) the egg white, Monin Mango syrup, lime, and the pisco.
Detach a spring from a hawthorn strainer and place into the Boston tin as well. Shake hard for 5 seconds.
Open the tin, remove the spring. Add ice and shake as normal. Double strain in to a chilled Nick and Nora glass, and add 3 drops of bitters on top to garnish.
It's not just the Monin syrups either, but here at Stephensons you can also find a selection of Monin fruit purees. These can also be used in cocktails, smoothies, and for desserts. The majority of Monin products are suitable for vegetarians and vegans, with some also being certified Kosher and Halal. Please contact us for more information on 0161 483 6256 or email sales@stephensons.com.
You can also find accessories available such as the pumps for Monin bottles or a metal bottle rack for your syrups.
Read More
Monin
Monin Syrups For Coffee & Desserts in Glass 70cl Bottle
Monin Syrups For Coffee & Desserts in Plastic 1Ltr Bottle
Monin Syrups For Cocktails & Desserts in Glass 70cl Bottle
Monin Syrups For Cocktails & Desserts in Plastic 1Ltr Bottle
Monin Concentrated
Monin Fruit Purees
Monin Smoothie Mixes
Monin Gourmet Sauces