Steelite Crockery and Tableware
Lovingly made in Stoke-on-Trent, UK.
IN STOCK NOW: From Steelite's most popular ranges to brand-new releases, we have a breadth of items in-stock at our warehouse and available for immediate despatch.
Here at Stephensons, we are proud to stock a wide range of Steelite International's world-renowned ceramic catering ware. Hotels, bars, restaurants and many other discerning establishments across the UK and beyond choose Steelite Crockery for a number of reasons ranging from performance to fantastic cost-in-use.
Please click 'Read More' to learn about Steelite's history and why the performance of their products has established them as a favourite of hospitality venues across the globe.
History of Steelite
Steelite Crockery has been manufactured in Stoke, England — 'the ceramic capital of the world' — since 1875. The founder, Thomas Wood Bennett (who also invented the reinforced edge) had the original idea to create strong tableware, suitable for use in hotels. That spirit of durability and quality still exists in the ranges produced today. 
Steelite today still work and design exclusively for the hospitality and catering industry, ensuring that they have a full understanding of the style and practicality expected for professionals. As an ISO registered tableware supplier, Steelite International ensures consistent material and product quality for every piece leaving their famous factory.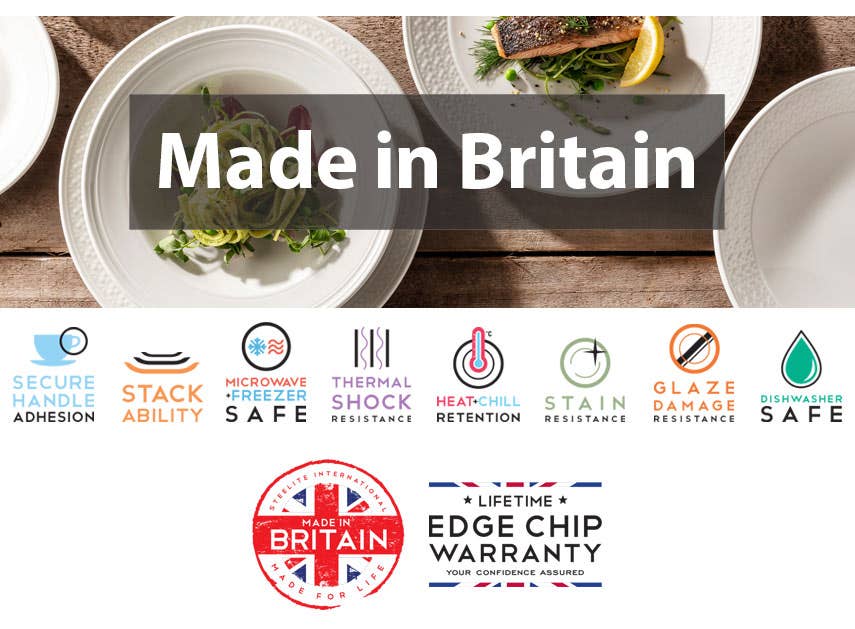 British Manufacturing, World-Renowned Performance
With a unique body recipe, all Steelite International products are fully vitrified, extremely strong and durable. All tableware manufactured at the Stoke-on-Trent site comes with a Lifetime Edge Chip Warranty. This is a commitment to producing an excellent quality product that will stand the test of time – and the kitchen.
Some of the amazing features you can expect from Steelite Tableware include:
Microwave, oven, freezer and dishwasher safe: Steelite crockery products offer complete versatility. However you work, be confident that these items work with you.
Stain resistance: All products have great stain resistance, which means you can work comfortably with any food time and time again... leaving no trace.
Glaze damage resistance: Durable transparent glazes provide an excellent quality finish and great performance in service.
Thermal shock resistance: Performance and Distinction products withstand temperature fluctuations of up to 200°c. Work with these products and work with confidence.
Longer product lifecycles: 2-3 times longer than typical porcelain products, manufacturing that meets international legislation and regulation regarding product performance.
Lifetime edge-chip warranty:

Giving added assurance that your Steelite International product will withstand the rigours of a busy commercial environment and remain chip-free.

Many stackable ranges: From cups and saucers to teapots and plates – help keep storage space to a minimum with Steelite stackability.
Heat & chill retention: Piping hot main course or ice-chilled desserts, serve your food as it is meant to be served with crockery that keeps its temperature.

Invest in the Future: Steelite Crockery LASTS
The temptation to buy cheaper, imported tableware is a natural reaction when times are tough.
However, the ongoing cost of replacing tableware will far outweigh any perceived initial savings. While purchasing Steelite International tableware may seem expensive in comparison to cheaper imported tableware, its high alumina content makes the products extremely strong and durable - and less likely to chip or crack during service.
Buying cheaper imports or porcelain tableware is likely to result in the need for more regular replacements, which in turn will cost you more money. Over a period of five years, you could spend at least 20% more on your tableware.
Read More