Crockery for the Queen
All the way back in 1953, Stephensons were honoured to officially manufacture souvenir mugs for the Coronation of Queen Elizabeth II
---
Following the deeply saddening news of the passing of Queen Elizabeth II, we thought it'd be fitting to revisit the story of our own little connection to Her Majesty's incredible reign...
Way back in 1953 — with the coronation of Her Majesty Queen Elizabeth II imminent and people ready to crowd around television sets for the event of the century — H.G. Stephenson Ltd. (or as you know us, 'Stephensons') were picked as official suppliers for the coronation souvenir mugs.
The business, then under the stewardship of second-generation Ernest Stephenson, was honoured to be chosen by the City of Manchester Corporation for such a significant job.
A whopping 72,000 commemorative mugs were crafted and badged at the Royal Cauldon pottery factory in Staffordshire, all ready to be sold to commemorate the big day!
The front of the mug proudly displayed the official coronation emblem, which was fully endorsed by the British Pottery Manufacturers' Federation. This emblem featured a royal portraiture wreathed with the kingdom's flag and royal arms, the date of the coronation (June 2nd 1953) and a floral motif. The reverse had the City of Manchester coat of arms, while the base was badged with an official Stephensons stamp.
It may not seem like much, but it's a part of our history and we're very proud to have helped commemorate such a significant moment. The mugs were actually so ubiquitous that many can still be found on eBay and similar selling sites today!
---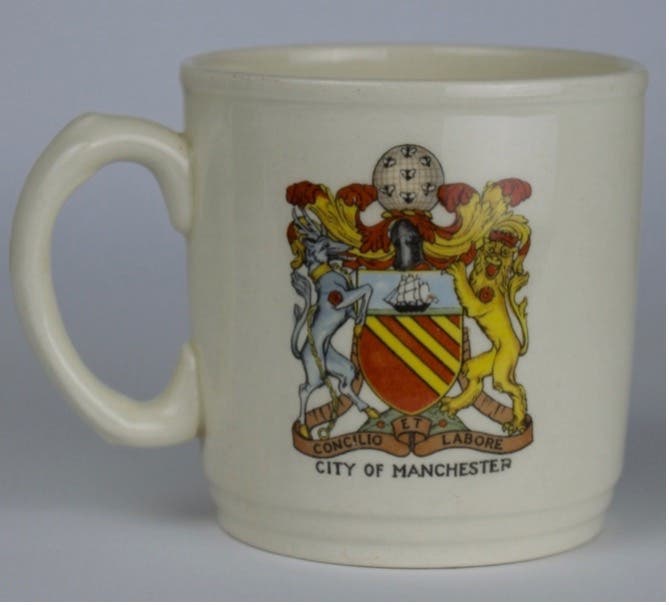 Want to know more about the history of Stephensons? We have a whole page chronicling the story of the business from humble beginnings on the Salford flat iron market, to the one-stop-shop hospitality businesses rely on today. Simply click the button to explore the 'Story of Stephensons'.