Four Pint Clear Expandable Beer Carrier with 20mm Diameter Spout 220x310mm
Equivalent to:
£0.82

Each
Pack of 50

In Stock
Click & Collect
Items 'In Stock' are available from our Stockport store
Four Pint Beer Carrier
 
Expandable beer carrier
Carries up to 4 pints
Space saving
Transparent material makes contents easily identifiable and helps with pouring measures
Light, strong and practical, Expandable Beer Carriers are a fantastic choice for serving take away draught ale. These carriers are ideally suited to pubs, breweries and bars who can offer customers beer-to-go on top of their in house beverages. 
Our four pint beer carriers are made from a high quality multilayer laminate with a sealed rigid spout and supplied with matching screw on cap with tamper evident seal.
This carrier is perfectly suited for liquids and save a lot of space during transport and on retails shelves in comparison to usual cans or glass bottles. The transparent material (LDPE) is strong and reliable while also allowing for contents to be easily seen which helps for filling measures and when identifying different beers in different carriers.
To guarantee a perfect legal measure, pour the desired drink into a CE lined four pint jug before transferring to the beer carrier.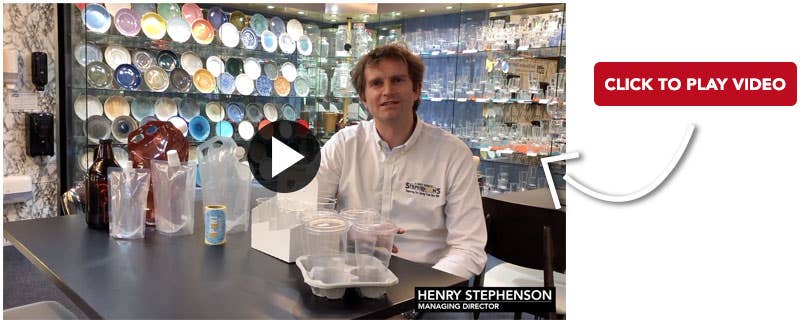 Key Features:
Four Pint Expandable Beer Carrier (Reusable)
Ideal for selling take home draught ale
Stable when filled
Easy pour spout
Pours accurately and easily without glugging
Finger holes for easy carrying
Made from strong, food grade film laminate
Light when empty
Reusable
Small footprint, does not require much storage space when empty
From Stephensons catering equipment suppliers
We advise removing pump sparklers before filling Expandable Beer Carriers to prevent over-frothing.
More Information

| | |
| --- | --- |
| Pack Size | EA |
| Selling Unit | PK50 |
With our own dedicated fleet of vans servicing the North West and a dependable courier service for the rest of the country, we endeavour to get any stocked items ordered before 3pm to you within 2 working days. Any UK mainland order placed over £50 (excluding VAT) is eligible for free delivery. For full information regarding our delivery details and routes, please click here.

If you'd prefer to collect your order from our Stockport store, simply select the 'Click & Collect' option at checkout, complete the order and we'll do the rest. Click & Collect is available for paid orders only. Please bring a copy of your Order Confirmation with you when you collect your order. We have plenty of FREE parking available and there are strict social distancing measures in place to protect our staff and customers.

If for some reason you are unsatisfied with your order, we offer a refund on all purchases of stocked goods if they are returned in the original box and in the condition they were sold, within 30 days. Charges may apply. For full information regarding returns, collection fees and charges relating to non-stock / special order items, please refer to our Returns Policy.