Call for Details
Click & Collect
Items 'In Stock' are available from our Stockport store
Exceptional High Demand
Due to exceptional high demand, orders may take slightly longer than usual to be fulfilled.

Zena Swiss Star Peeler.
A heavy duty peeler with the sharpest blade on the market!
Perfect for catering, this Zena Star peeler is popular among professional chefs. As a heavy duty version of the world famous REX peeler, the Star peeler features the sharpest blade on the market and a stainless steel handle. The metal hook at the head of the peeler ensures that removing potato eyes is an effortless process.
The hardened blue steel blade makes easy work of peeling and will produce a beautiful long peel, leaving fruits and vegetables with a clean and smooth surface. This professional peeler can additionally be used to slice cheese and cut vegetables into thin strips.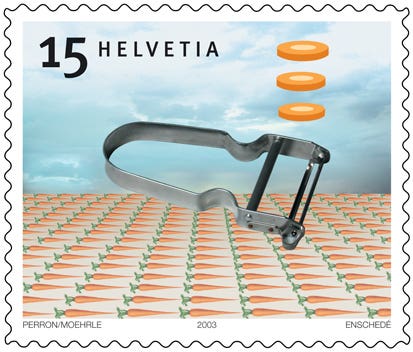 In 2004, the Swiss Post dedicated a stamp to the legendary Zena Peeler! Now documented as part of Switzerland's history, the peeler stamp has earned an honourable place in the Hall of Postal Fame.

Key Features:
Zena Swiss Star peeler
Hardened blue steel blade
Potato eye remover
Heavy duty
Ergonomic design
Dishwasher safe
Great price
Size: 4.25x2.5" / 11x6.5cm (1.75" / 4.5cm blade)
More Information

| | |
| --- | --- |
| Pack Size | EA |
| Selling Unit | EA |
With our own dedicated fleet of vans servicing the North West and a dependable courier service for the rest of the country, we endeavour to get any stocked items ordered before 3pm to you within 2-3 working days. Any UK mainland order placed over £50 (excluding VAT) is eligible for free delivery. For full information regarding our delivery details and routes, please click here.

If you'd prefer to collect your order from our Stockport store, simply select the 'Click & Collect' option at checkout, complete the order and we'll do the rest. Click & Collect is available for paid orders only. Please bring a copy of your Order Confirmation with you when you collect your order. We have plenty of FREE parking available and there are strict social distancing measures in place to protect our staff and customers.

If for some reason you are unsatisfied with your order, we offer a refund on all purchases of stocked goods if they are returned in the original box and in the condition they were sold, within 30 days. Charges may apply. For full information regarding returns, collection fees and charges relating to non-stock / special order items, please refer to our Returns Policy.